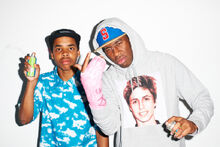 EarlWolf
(stylized
EΔRLWOLF)
was an American hip hop duo within Odd Future, the hip hop collective from Los Angeles, California. The duo consisted of
Earl Sweatshirt
and
Tyler, The Creator.
They were active from 2009 to 2010 and 2012 to 2014.
2009-2010: Formation
Edit
EarlWolf formed in 2009, when Tyler first met Earl.
They released their first (and only) song when Odd Future released their second mixtape, Radical. That song was "Orange Juice".
2010-2012: Delay
Edit
From June 2010 to February 2012, EarlWolf had to be put on hold due to Earl Sweatshirt's mother sending him to a boarding school in Samoa, seperating Earl from Odd Future.
2013: Album Announcment
Edit
On September of 2013, in an interview, Earl Sweatshirt said Tyler and himself will record an EarlWolf album in one sitting.
2014: Disbandment
Edit
On March of 2014, Tyler, The Creator stated to a fan he "doesn't want to do 'EarlWolf' anymore" and "an 'EarlWolf' album will not happen."
2015: Possible Reunion
Edit
On November 14, 2015 (day of Camp Flog Gnaw 2015), Tyler, The Creator addressed questions of Earl not appearing at the carnival by tweeting "Thebe and I are fine by the way". Thebe is Earl's real name.
Discography
Edit
Collaborative Albums
Edit
Cancelled Albums
Edit