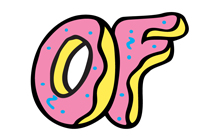 Odd Future Records is an American independent record label founded by rapper and producer Tyler, The Creator of Odd Future in 2011.
On September 30, 2011, Odd Future digitally released their first compilation album, 12 Odd Future Songs.
On December 19, 2011, The Internet, consisting of Syd tha Kyd and Matt Martians, digitally released their debut album Purple Naked Ladies. Later the album was physically re-released on January 31, 2012.
On March 20, 2012, Odd Future released The OF Tape Vol. 2, the sequel to their 2008 mixtape, The Odd Future Tape. The album debuted at number 5 on the US Billboard 200 chart, selling 40,000 copies in its first week.
On May 30, 2012, hardcore punk group Trash Talk signed to Odd Future, making them the first act to not feature any members of OFWGKTA.
Discography
Edit
Artist
Album
Details
Odd Future
12 Odd Future Songs

Released: September 30, 2011
Chart position: –

The Internet
Purple Naked Ladies

Released: December 20, 2011
Chart position: –

Odd Future
The OF Tape Vol. 2

Released: March 20, 2012
Chart position: 5 U.S.
Sales: 70,000+

MellowHype
Numbers

Released: October 9, 2012
Chart position: 54 U.S.
Sales: 20,000+

Trash Talk
119

Released: October 9, 2012
Chart position: –

Tyler, the Creator
Wolf

Released: April 2, 2013
Chart position: 3 U.S.
Sales: 100,000+

The Internet
Feel Good

Released: September 20, 2013
Chart position: –

MellowHigh
MellowHigh

Released: October 31, 2013
Chart position: 89 U.S.

Trash Talk
No Peace

Released: May 27, 2014
Chart position: –

Tyler, The Creator
Cherry Bomb

Scheduled: April 13, 2015
Chart position: –