Rap it Up is the of the ninth episode of season three (and forty-ninth episode overall) of Regular Show. It premiered on November 21, 2011, receiving 2.142 million views worldwide.
It Featured the guest Voice acting of Odd Future member Tyler, The Creator, as the characters Big Trouble & Blitz Comet.
It also featured the guest voice of rapper Childish Gambino, as the character Alpha-Dog.
Background
Edit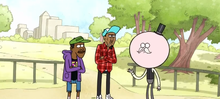 The Characters played by Tyler are Big Trouble and Blitz Comet. Big Trouble doesn't not look like Tyler but Blitz Comet resembles Tyler and many ways. He wears a purple hoodie, with a green cap (resembling "Supreme" caps he often wears), has gapped teeth, and a black undershirt. The black undershirt has the initials B.o.B. with a cross through it. He also wears blue shorts and blue shoes, as well as knee-high socks.
The Shirt that Blitz Comets wear has the initials B.o.B. cross out, this maybe because Tyler and Artist B.o.B. had feud.
The Character Alpha-Dog played by Childish Gambino in many ways resembles another Odd Future member Vyron Dalyan Turner, widely known as Left Brain.