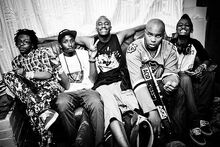 The Internet is a soul band consisting of Odd Future members Syd the Kyd and Matt Martians, as well as Jameel Bruner, Patrick Paige, Christopher A. Smith and Steve Lacy.
Internet was formed in late 2011 by OFWGKTA members Syd Tha Kyd and Matt Martians, along with touring members Patrick Paige, Christopher Smith, and Jameel Bruner.
Their debut album Purple Naked Ladies was released on December 20, 2011. It was the first Odd Future album to be released through Odd Future Records. Two songs from the album, "Cocaine" and "Fastlane", had music videos to accompany their release. The Internet has a song included on the Odd Future album The Odd Future Tape Vol. 2.
The band released their second album "Feel Good" in September 2013, and received praise from fans and critics. The first single from the album, "Give It Time", was released through Odd Future's official SoundCloud. On June 10, 2013, The band backed Mac Miller in London in promotion of his second album Watching Movies with the Sound Off. On June 30 The Internet released there 3rd album "Ego Death".
Discography
Edit
.
Extended plays
Edit
Purple Naked Ladies: 4 Bonus Songs (2012)
With OFWGKTA
Edit
Production credits
Edit
List of songs produced by The Internet
Title
Year
Album
Artist(s)
"Navy"
2012
Homeschool EP
Kilo Kish
"Watergun"
Non-album
List of remixes by The Internet
Title
Year
Album
Artist(s)
"Blue Jeans (Odd Future's The Internet Remix)"
2012
Non-album
Lana Del Rey
"You're The One (Odd Future's The Internet feat. Mike G Remix)"
Heartbreaks and Earthquakes
Charli XCX
Fitzpleasure (Odd Future's The Internet Remix)"
Summer Remix EP
Alt-J
Touring members
Edit
Patrick "Midtown Pat" Paige - bass guitar
Jameel Bruner - keyboards
Christopher Smith - drums
Tay Walker - back vocals & previous keyboard
Steve Lacy